Over the weekend, I attended the launch party for A New Day Publishing. This event was special because two friends from high school were making their literary debuts. One being the owner of the publishing company. The other being "THAT SKINNY CHEF"  the new author of "Seafood The Way I SEA IT" a beautiful book with yummy seafood recipes accompanied by beautiful pictures.
Being a girl who loves FOOD and a bona-fide health nut; I had to pull pretty dapper Chef Desmond Fannin aka "That Skinny Chef" to the side for some pretty healthy questions.
1. What inspired Seafood: The Way "I SEA" It?
As a chef, I always wanted to author a cookbook. I love eating seafood and I know many others that do as well. I find seafood relatively simple to prepare and wanted to show others that they too can do it with ease. When "fishing" for a name, "The Way I Sea It" just grabbed me. These recipes are what I see first when I think of each product.
2. How much of a difference can someone see in their health by incorporating seafood in their diet?
If you are increasing seafood, you are probably decreasing other proteins that are higher in fat. One may feel a little "lighter" and more energetic as seafood digests a little easier. It is also usually high in Omega 3 Fatty Acids which are good fats that your body does not make, but needs.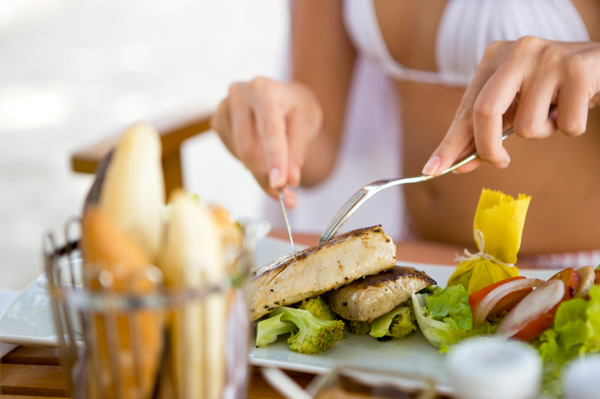 3. What's your biggest piece of advice about navigating the fish market? 
Biggest piece of advice is to always go with Wild-Caught products. Farm-Raised fish are more accessible, but are not best for you. Also know what items to stay away from i.e., Tuna (Bluefin) or Mackerel (King) as they are usually high in Mercury.  Ask questions of the fish monger if you are unsure about anything.
4. As a parent how do you make fish and other healthy foods appetizing for children?
 I find that if you educate kids on the benefits of the healthier foods, that helps tremendously. Kids like to know "why" they should do the right things and "Because I said so!" isn't always the best answer. Also, letting them help you shop, cook, and even grow the food will allow them to connect with the food.
5. What's your favorite seafood dish and why?
My favorite to eat: a dish by one of my mentors (Chef Donald Wilson) Pan Seared Salmon with Red Onion Marmalade – This was the first time that I ever tasted Salmon that was not over-cooked and the flavor profile was on point.
Favorite dish to cook: Pinot Grigio Shrimp Scampi – Very simple to prepare and it's full of layered flavors. Plus it's in my book. 🙂
6.How can we keep up with you and learn more about your projects?
You can keep up with me via Twitter: (@ThatSkinnyChef). Visit my website: www.chefdesmond.com – which has links to my Facebook Group Page and my Culinary Talks Blog. Also don't forget about my book: Seafood: The Way "I SEA" It.
I am totally ecstatic for That Skinny Chef. I can't wait to try out his shrimp and grits recipe!!!! Kudos to Chef Dez ;).
"There's POWER in the Dress, Purse, and Stiletto." ~PGRDresses ™.
(c) 2011 Pretty Girls Rock Dresses, LLC All Rights Reserved.