focuses on women who like to think outside the box.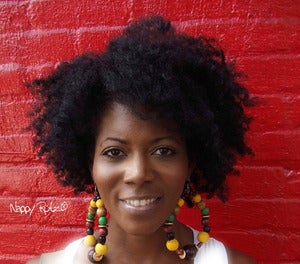 Nappy Rútz was conceived by an avid frugalista who loves eye-catching earrings and t-shirts designs but found it hard to get what she desired without looking like everyone else.
 What started as a hobby quickly became a booming business when Nappy Rútz did what any innovator would do, she designed her own tees and earrings and sold them to friends and family.
Now three years later with a large following Nappy Rútz is expanding and bringing her wares to an even broader audience.
I am super excited about Cherie Huff and her fly Nappy Rútz being in our pretty vendor lounge at the flyest event of the season  Fall Swapnista Day Party. When I say this sister have some banging pieces it is clearly an understatement. For all the FLY Atlanta ladies get there early because she is EXPECTED to clear out fast. Don't fret out-of-town PGRDresses and Dapper Fellas you can instantly learn more about Nappy Rútz by checking her fabulous Facebook Fanpage and following her TWEETS. 
Atlanta, don't forget we are collecting dresses and accessories for Operation Prom.  Let's make a lasting impact on young women in our community. For more information  check out our official event page: SWAPNISTA.