Like so many women: I too have been guilty of wearing:
A BRA THAT DOES NOT FIT!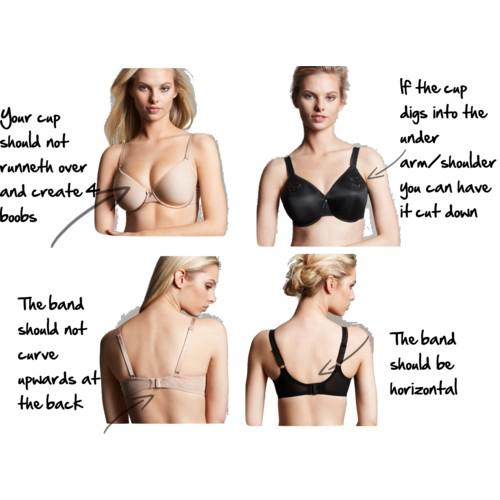 It's not something you think about as being a big deal . If you're like me, you have a favorite 1-2 bras that you wash & rotate all the time. Maybe you've worn it for the past few months.
You may wear them all the time because you've broken it in and it's comfortable to wear. A lot of times with our hectic schedules, whether or not you have the right size on is sometimes the last thing on your mind. Usually, you replace your current rotation of bras when they are worn out, which is about once a year during Victoria's Secret semi-annual sale, if we even remember to go!
Research has shown that about 80%  of women are wearing the wrong size bra…that's a lot of ladies. So, now that we've gotten the statistics out of the way, what can we do to fix this epidemic? Well, I have a few suggestions.
How often should I get fitted for a new bra?
About every 6 months. Why? There are many factors that contribute to this. As women, our weight fluctuates; we have changes in hormones, the holidays, exercise, age, etc. These factors may not only change the cup size, but the shape as well.
You can get fitted by a bra specialist in the intimate apparel section at your local department store. Now, if you want a more detailed, thorough fitting, head down to a specialty retailer such as Soma Intimates or Intimacy @ Phipps plaza in Atlanta. At these specialty stores, I've found you get more styles to choose from and more one on one attention from the associates because that's what these places are know for.
How many bras should I have?
I've found that about 4-5 bras is a good starting point. When I used to work at Some, we would tell customers: one to wear, one to wash, 2/3 to rest, just depends on your preference.
Now, to get you the 4-5 bras, try building a bra wardrobe. This can take you from week to week.
How I built my personal BRA wardrobe.
T-shirt Bra: good under t-shirts and lightweight tops
Strapless or Convertible Bra: The great thing about these bras is that they adjust to any neckline or silhouette
Racerback: Good under sleeveless tops, tanks, and dresses
A Good "WEEKEND" Bra: one that may be wire-free, and comfy (ie sportsbra)
Something Sexy: push-up demi, cool, funky print, and lace. Sometimes a little sexy goes a long way, plus that extra "push" may give you the confidence you need to work your outfit right.
For more info on do-it yourself measuring, or just tips on finding your perfect bra, go to www.soma.com
Hope these tips help you get out of BRA JAIL! 
Your Stylist,
Pretty Fly Robin
"There's POWER in the Dress, Purse, and Stiletto."  ~PGRDresses.®
© 2012 Pretty Girls Rock Dresses, LLC All Rights Reserved.